The new shrinkage-free, self-leveling
and environmentally friendly terrazzo
Maleki GmbH has many years of experience in the development of self-leveling industrial floor coatings that are environmentally friendly and do not require labeling. Based on our alternative silicate binder technology with pozzolanic and latent hydraulic
raw materials, we have developed a new high-quality binder for terrazzo systems.
Using alternative silicate technology with pozzolanic and latent-hydraulic raw materials, this self-leveling and self-compacting terrazzo was created, whose properties cannot be matched by conventional formulations based on cements or epoxy resins.
The Maleki terrazzo floor is based on environmentally friendly upcycled materials, from the binder to the aggregates such as glass, marble or porcelain. The sustainable use of raw materials makes the system particularly attractive for environmentally conscious consumers. It does not contain any raw materials that trigger allergies or promote the growth of mold cultures. With the EMICODE EC 1PLUS label, we meet the strictest requirements for low-emission building products.
Terrazzo is a high-quality, durable mineral floor that cannot be compared with the usual short lived and inexpensive coverings such as PVC, laminate, tiles, etc.
A classic Terrazzo is cost-intensive due to the type of application and the sometimes lengthy reworking of pores and holes that have to be filled. This time-consuming and cost-intensive work step can sometimes be repeated between 2 and 4 times with renewed filling and sanding. Maleki-Terrazzo is a special binder that has been developed over many years to simplify these steps. Thanks to our special formulation, we are able to offer you a simple application method without repeated filling and polishing in the finishing stage.
Depending on the requirements and size of the aggregates, Maleki Terrazzo can be installed with varying layer thicknesses between 6 and 60 mm without cracking.
The final treatment with our liquid silicate hardener Maleki DW 100, which enters into a coordinated chemical reaction with the Maleki terrazzo binder, and final grinding and polishing can produce a very smooth, dense and at the same time hard surface.
The mixture should contain at least:
25% Terrazzo Binder
25% limestone powder
50% Decorative grain of your choice
Depending on the grain size used, 12 – 14 liters of water are used per 100 kg of the powder mixture.
After setting, the surface is smoother than with conventional terrazzo products.
As a rule, you only need to remove a few millimeters by grinding.
The proprietary stain protection Maleki-VS 910 ensures a clean surface.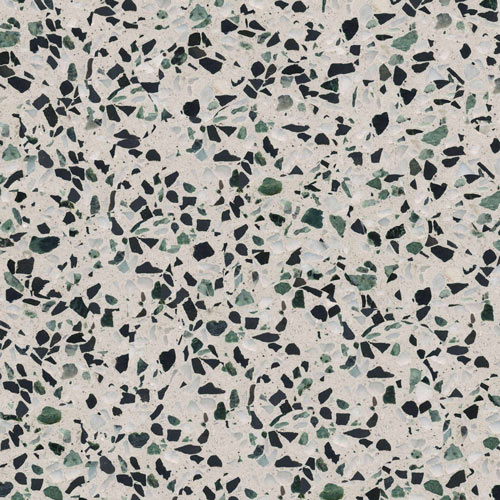 The advantages of Maleki Terrazzo flooring in brief: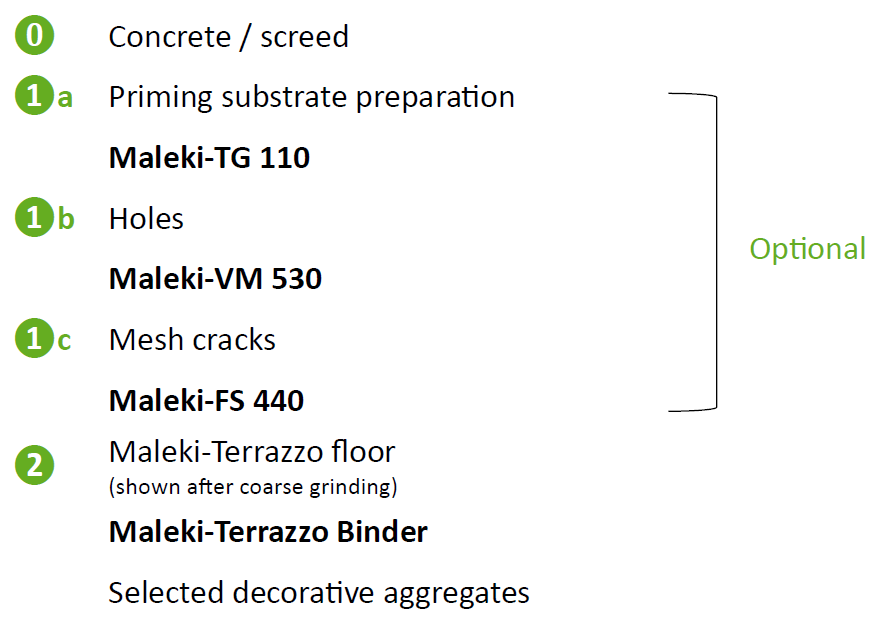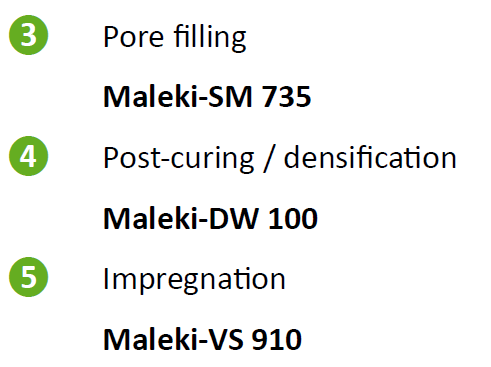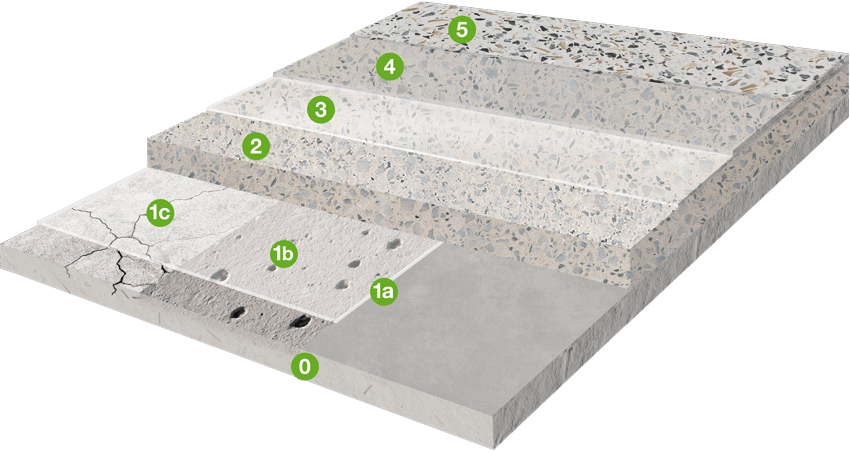 For detailed information on application, please refer to our technical data sheets.
Further system processing instructions can be provided on request.